Looks like a good time for the .NET Developers for developing on not just on Windows platform but also on Linux and Mac OS X. During the Build 2015 keynote , Microsoft announced and demonstrated a new light weight code editor called Visual Studio Code which is considered to be light weight when compared with Visual Studio and can natively run on Mac OS X and Ubuntu apart from Windows .
Microsoft announces Visual Studio Code with support for Linux and Mac OS X
Yes , you heard this correct . This is one of the biggest announcement for the developers which will allow them to create applications on Mac OS X or Ubuntu using Visual Studio tools.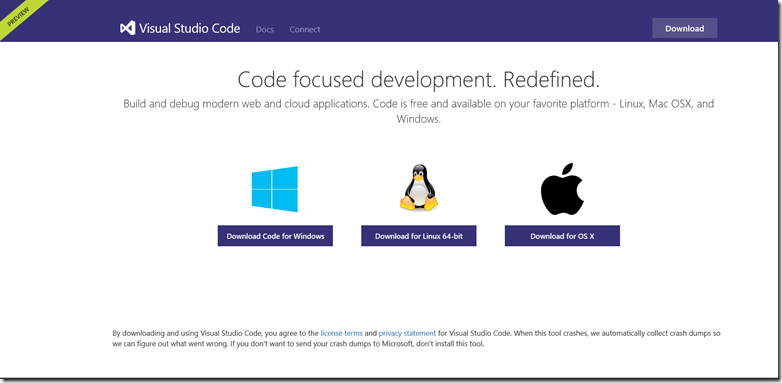 You can try out Visual Studio Code by downloading Visual Studio Code for Windows , Linux and Mac OSX from the below link.
Visual Studio Code for Windows
http://download.microsoft.com/download/0/D/5/0D57186C-834B-463A-AECB-BC55A8E466AE/VSCodeSetup.exe
Visual Studio Code for Linux
http://download.microsoft.com/download/0/D/5/0D57186C-834B-463A-AECB-BC55A8E466AE/VSCode-linux-x64.zip
Visual Studio Code for Mac OS X
http://download.microsoft.com/download/0/D/5/0D57186C-834B-463A-AECB-BC55A8E466AE/VSCode-osx.zip