FSharp Interactive UI includes few good number of commands which can be used by the F# Developers . Below are some of the FSI Commands which can be used by the developers.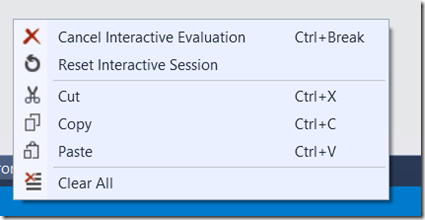 FSharp Interactive Commands
Cancel Interactive Evaluation – This option cancels the execution of the FSI .
Reset Interactive Session – This option resets the execution of the current FSI .
Cut – This option cuts the selection from the current line to the clipboard.
Copy – This option copies the selected code to the clipboard.
Paste – This option pastes the text from the clipboard to the current line.
Clear All – This option clears all the content in the FSI Dialog.