Are you looking at signing up for SEMrush Free Trial without Credit Card and need more information on how to do it?. You are at the right place. In this post, you'll learn how to signup for SEMrush for Free and then check to see if SEMrush trial is available without using your credit card details.
In the internet era, businesses find it difficult to keep an eye on their competitor's performance how they perform online. There are plenty of tools out there to analyze the online competition and it gets confusing for the business to identify which one is the right tool for their SEO and Marketing their online content.
What is SEMrush?
SEMRush is one of the popular online SEO tools that let you analyze your online competition as well as your website and provides necessary recommendations (via Site Audit) on how you can improve your SEO presence.
What does SEMrush provide?
SEMrush provides the following functionalities
Keyword Research
New Keyword opportunities
Creating Content using Keywords
Backlink Analysis
Competition Analysis
Keyword Ranking
Site Audit & Traffic Analysis
How much does SEMrush Cost?
SEMRush comes in 4 Flavors – Free Version, Pro, Guru, and Business. SEMRush free version comes with its limitations like a number of searches etc.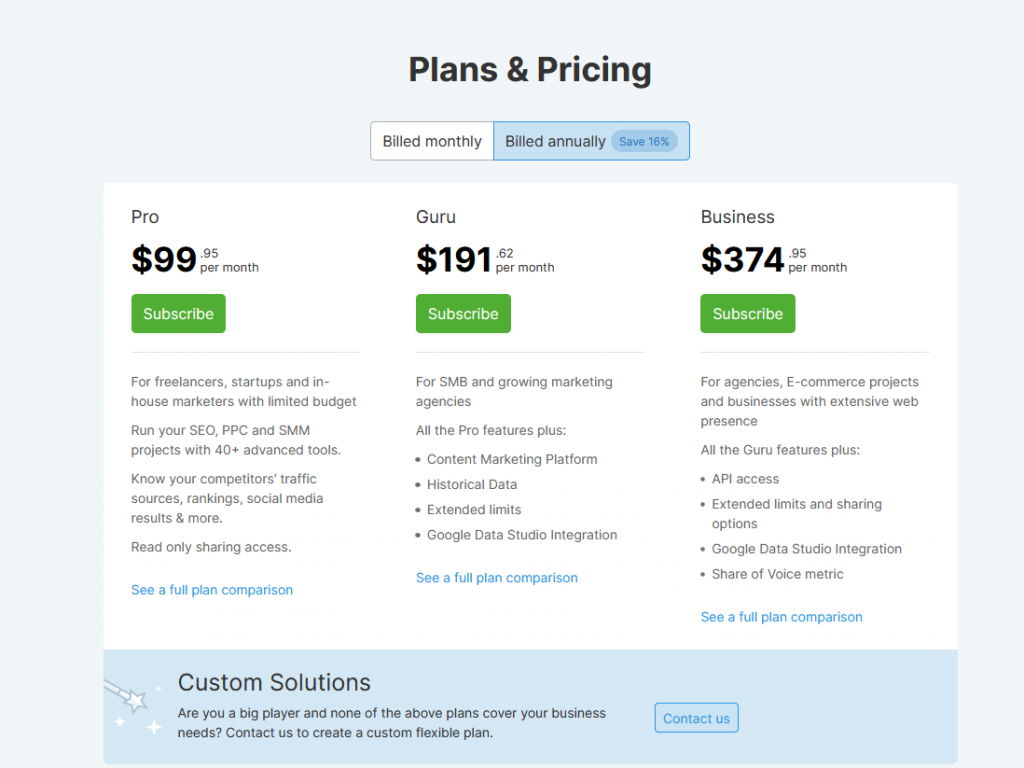 Features of SEMRush Pro, Guru, and Business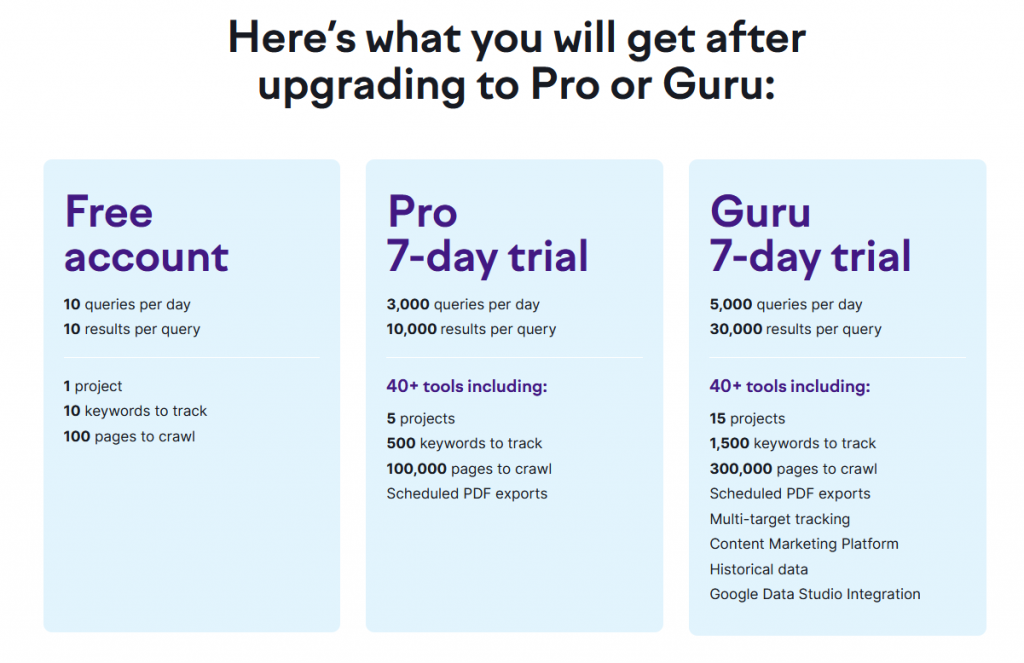 | | | |
| --- | --- | --- |
| Pro | Guru | Business |
| Analyze Competitors Strategy (keywords, ads, backlinks) Manage Social Campaigns Keyword Research Link Building On-Page & Technical Optimization Insights | All in Pro plus: Content Effectiveness Audit Topic Research Content Optimization on-the-go Brand Reputation Monitoring Compare performance across different devices & locations Detect and fix cannibalizing pages Historical Data Google Data Studio integration | All in Guru plus: API Access Custom Dashboards with native GDS connectors PLA analytics Crawl Large Websites (up to 100k pages) Project Sharing with free users AMP pages audit |
| Limits | Limits | Limits |
| 5 Projects 500 Keywords to track 100 000 Pages to crawl 10 000 Results per report 250 Keyword metrics updates per month 500 SEO Ideas Units 50 Social profiles for monitoring 10 Social profiles for posting 5 Scheduled PDF reports | 15 Projects 1500 Keywords to track 300 000 Pages to craw 30 000 Results per report 1000 Keyword metrics updates per month 800 SEO Ideas Units 100 Social profiles for monitoring 30 Social profiles for posting 20 Scheduled PDF reports | 40 Projects 5000 Keywords to track 1000 000 Pages to crawl 50 000 Results per report 5000 Keyword metrics updates per month 2000 SEO Ideas Units 300 Social profiles for monitoring 50 Social profiles for posting 50 Scheduled PDF reports |
How to Get SEMRush for Free?
SEMRush is a feature-rich tool for your Online Business and is one of the top SEO tools out there in the market. That should justify the price. When you signup for SEMRush by default, you are provided with the Free account with limitation. However, SEMrush gives you a 7-day free trial during the signup.
When you signup and when you choose the trial offer, you will be prompted to enter the credit card details. Don't worry you can then cancel the trial subscription anytime with-in 7 days by sending an email to [email protected]
You might get away from providing credit card details and still get a free trial by using coupon codes. Unfortunately, we are not aware of any voucher codes that removes this restriction. We had to provide the credit card details when subscribing for the trial account.
Steps to get SEMrush Free Trial
Go to Semrush.com and then click on Get a Free 7-day trial.
Create your SEMrush account by providing a valid email id and password.
You will be asked to verify your email address. Once you verify, you will be provided with an option to choose your trial plan. You can skip the trial if you just wanted to use the SEMRush free version.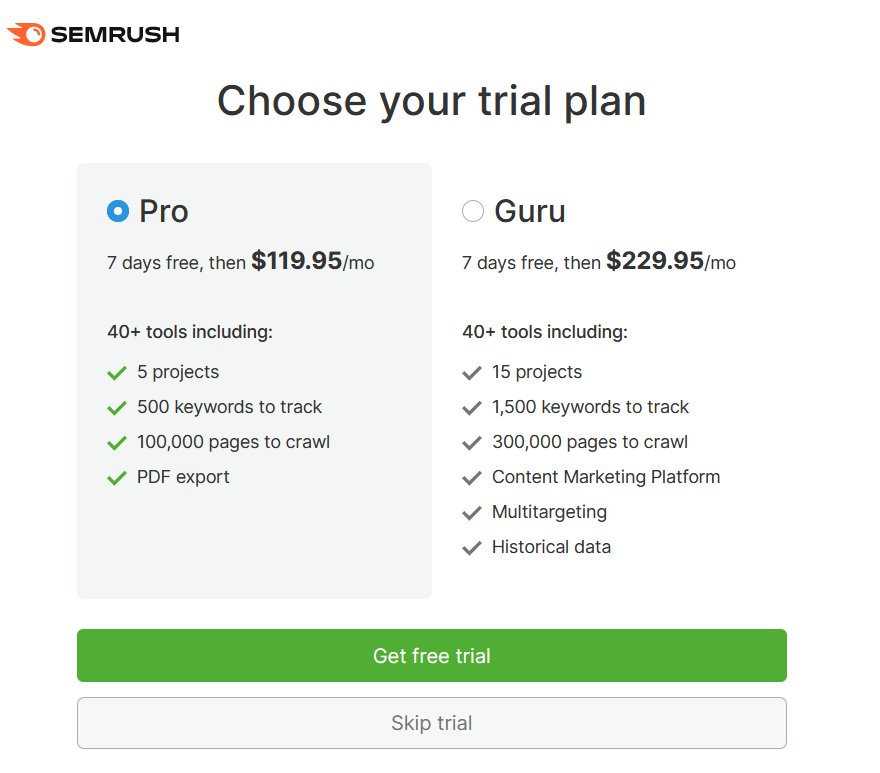 You will be asked to provide the billing details and once you place your order, the SEMrush account will be ready to be used for the next 7 days without any charges.
Note: Note that after the trial period you will be automatically charged the monthly subscription fee. You can cancel your subscription and request a refund within 7 days after your trial expires. You can cancel your account in between these 7 days by sending mail to [email protected]
Wrap up
There is no doubt that SEMrush is one of the leaders in SEO tools. However, there are other cheaper alternatives too. But nothing beats the features SEMrush provides.
SEMRush is one of the must-have tools for digital marketers. Don't forget to give it a try and I am sure you will like its features a lot.